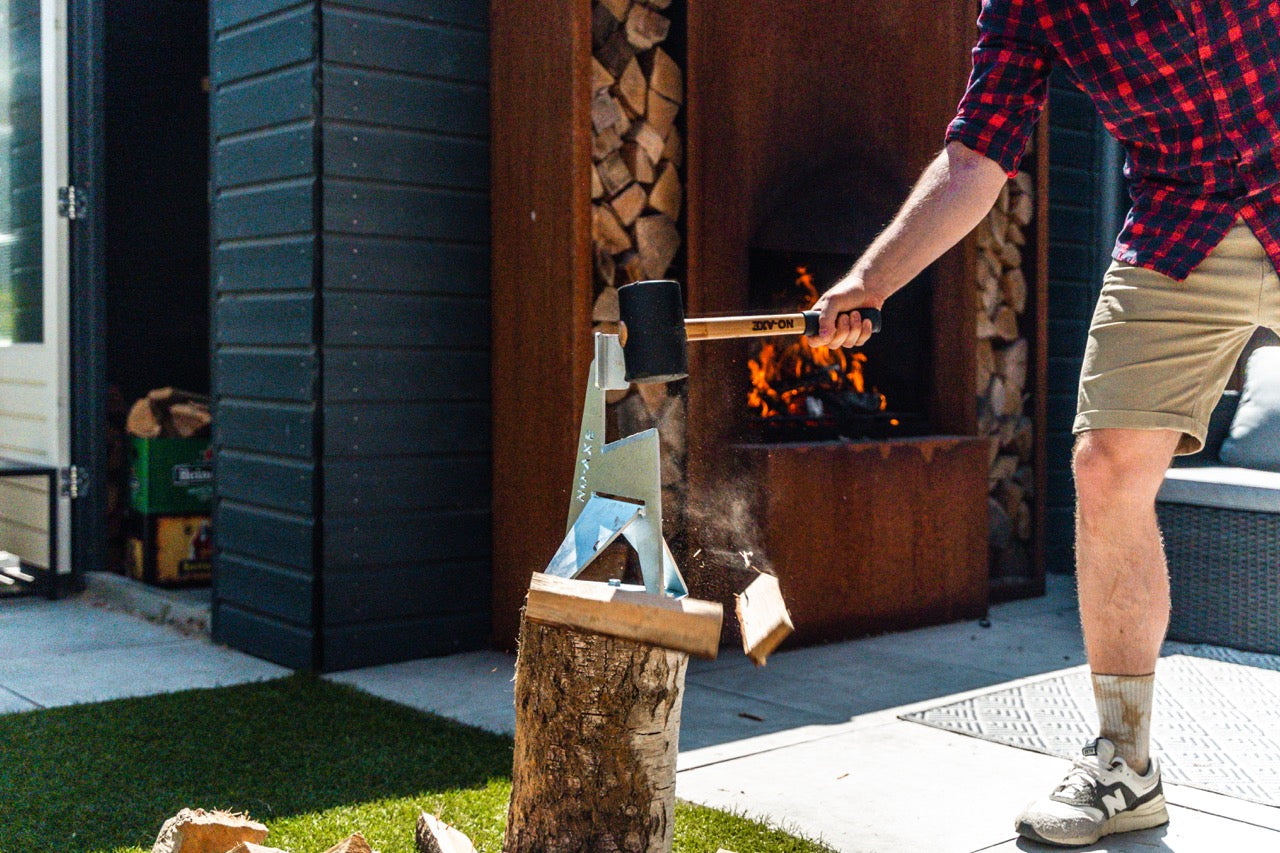 Safe and fast wood splitting
Split your wood safely with the NO-AX wood splitting. Place your block of wood on the NO-AXE and hit the top of the block with a solid rubber mallet. You have split your block of wood in one or two strokes.
USAGE
STEP 1: ASSEMBLY

Mount your NO-AXE on a stable tree stump before you start using the NO-AXE. For more information about installation, read our installation manual.

STEP 2: GAPS

Place a suitable block that fits completely on the NO-AX blade. Then hit the top of the block 1 or 2 times with a heavy solid rubber hammer to split the block.

STEP 3: PROTECT

The regular NO-AXE rusts, this is not a problem. Except on the blade of the NO-AXE. Protect it after use with the supplied rubber protective cap.

STEP 4: MAINTENANCE

After prolonged use, the blade of the NO-AXE may become less sharp. Fortunately, this is not a problem, you can easily sharpen it with a file or other sharpening equipment.
EDIT
STEP 1: SAWING

Find a tree stump with approximately the same diameter as the NO-AXE. Place the NO-AXE on the tree stump and check whether the tree stump is the correct size. If it protrudes slightly, cut the sides diagonally next to the legs of the NO-AXE.

STEP 2: SIGN-OFF

Do you have a tree stump with the correct size or have you just sawn off the remaining edges? Then place the NO-AXE on the tree stump and mark the drill holes on the tree stump via the four notches on the bottom of the NO-AXE.

STEP 3: DRILLING

Drill the four required holes at the marked locations on the tree stump. Use a wood drill of the correct size for this in connection with the supplied bolts and washers.

STEP 4: ASSEMBLE

Place the NO-AXE back on the wood block, making sure the notches and holes match. Then tighten the bolts with a washer in between in four places using an open-end wrench.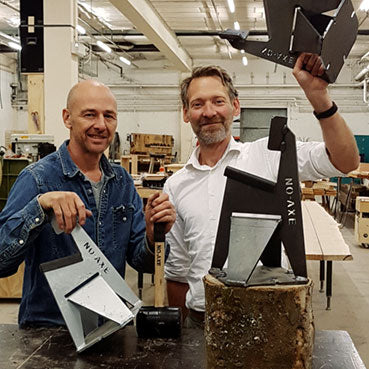 ABOUT NO-AXE
We are NO-AXE, a company that makes fair products
that are 100% designed and developed on Dutch soil. We are looking for
towards solutions to contemporary problems with innovative products
faster, simpler or safer.
READ MORE